I made no changes to the letters below, either spelling or composition.


<![if !vml]>

<![endif]>
Received 7-29-03
Hi Mary,

I hope this finds you doing well. Quentin and I just wanted to take a moment and send you some pictures of our adorable George Jr. We absolutely love him. And after a few frantic phone calls to you (right after we first arrived
home), we are all doing great! Thanks for taking the time to speak with us - even though we both grew up with dogs, it is a different responsibility when WE are the mom and dad. We are learning a lot about our puppy and are having a lot of fun.
George is so smart and sweet and big (surprise!) He is walking well on a leash now and totally crate trained (a brilliant suggestion - he sometimes just wants to run to our bedroom to his "den.") He is pretty much always with one of us and is the talk of the neighborhood. Lots of people just stop and admire him. Even the postman - George and I were walking one day and the postman pulled over to say, "Wow, he walks right along side you. What a great dog." (I whispered to George, "See, even the postman likes you!" I think he was very proud of himself.)
We are still trying to "break the cats in" with George, but I imagine it just takes time. He has a lot of puppy energy and doesn't understand why they don't want to play (poor guy!) But, he has fun playing with my mom's Lab and both
of my brother's Labs. Even Bentley, the Burmese Mountain dog in our neighborhood, runs down the street when he hears George coming.
Well, we will be sure and send you updates as our boy grows up. Thanks for giving us such a wonderful dog. I never knew anything about Shepherds before George but now I am in love!
Jerriann and Quentin Fleming


Received 2-18-03
Hi Mary,
I just finished watching your web pages. How wonderful! I'm sure you remember me. I purchased Chris Rock several years ago from you. I believe he was about 4 months old. Well, He is now all grown up and is just a beautiful wonderful dog. You would be proud of him. Our Vet says every time he sees him," What a nice specimen of a German Shepherd." I do believe he is one of the best looking dogs in our town. Every time we take him out or walk him somewhere, there is always someone that wants to ask about him and wants to pet him. Believe it or not, I've been asked if he was a black wolf. Haha . He is so sweet that a young child can come up and pet him and he just sits there and wants to kiss them. Yet if he hears a strange noise at night out back or out front of the house he is at alert. One time someone was walking late at night out front on the sidewalk and I let him out back to go investigate and he leaped at that gate of ours and showed his teeth and his hair was standing up and he barked and whoever was out front left real fast. The next day our neighbor said she was so happy to have him next door because in the past she has had a few cars stolen. I thought I should let you know how he is doing and I am sorry for not writing you sooner. I will get some pictures on the net of him and send them to you. I could go on and on about stories of him but I know you are a busy lady and I didn't mean to write this much. I noticed that you have puppies for sale and I also noticed that chri's mom is for sale. I have been thinking lately of getting another one!!! I know I'm nuts but the thoughts have been there. I'm sure I would need to get a female because Chris doesn't like other males too much. I'm not sure what he would do if he met his own size and breed. I have not had him neutered, there was no need to, he weighs about 110 pounds last time the vet checked him and gave him his boosters. He didn't lift his leg until he was about two. So maybe he is a late bloomer. But he is smart and we have had no problems with him. In the house he is well behaved and likes to sleep at the front door. He is strong and has a beautiful black coat with tan feet in between his toes? What color do you call that? Anyway, let me know what you think and your opinion on getting another dog. thanks, Sandy Squire


Kami Empey
705 S. Saint Phillips St.
Payson AZ 85541
Dear Mary,
I talked with you on the phone the other week, my name is Kami Empey. I called to thank you for selling me my German Shepherd Ty in 1994. You sounded very frail and sick, I am so sorry to hear about all that you have been through. You said that you feel like Job from the bible but please don't give up on God; he knows the pain that your going through and he does love you. I know that everything your going through doesn't make sense, but it is true that God loves us.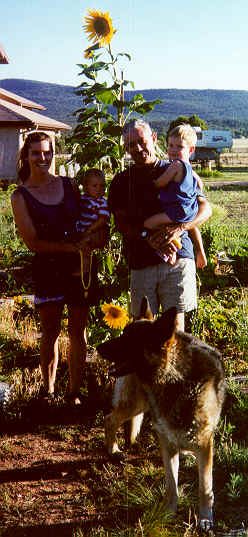 Anyways, the reason that I am writing is to share with you the joy that Ty has brought me. I graduated from UC Santa Barbara college in 1994 I moved to Oregon with my then fiancé, Steve Blumberg. I then shortly after moving to Oregon broke off our engagement. I was in Oregon, not knowing anyone and I felt so alone. But, everyday I had Ty. He was my best friend. He is such a loving dog. He is so fiercely devoted to me. It isn't an exaggeration, when I write that he lives and breaths for me. I got a job as a firefighter engine foreman up in the Siskyou National Forest. I moved up into the mountains and lived by myself with Ty. In my free time Ty and I hiked everywhere. We also biked and ran together. Even though my parents feared for my safety, living by myself in the mountains, I never did because of Ty. He is always friendly to people, but there is no doubt that he would never let anyone hurt me. What a wonderful companion you have bred for me to have. People stop me everywhere because whenever we take walks he never strays from my side and also because he is so gorgeous! In 1998 I met and married my husband. He is a firefighter too. We moved to Arizona. I now have two sons. They are 2 and 3 ½. Ty is so good with them. He lets them play all over him and he is always gentle with them. Ty has accepted my family but his first love will always be for me. I had no idea what joy Ty would bring into my life on the day that I visited your house and fell in love with all the precious puppies. I have yet, to run into anyone with a German Shepherd that has the physical beauty that Ty possesses or his incredible nature. Thank you Mary!

Love,

Kami & my family


Subject: looking good
Date: Wed, 06 Jan 1904 12:01:59 -0800
From: Nancy Corwin <nancy@lostplanet.com>
To: <troy007@earthlink.net>
Hi Mary,
It was the highlight of our day to see you looking so well and so strong!
Keep doing whatever you're doing, girl. It's working.
Lila is quite the little lady and we're enchanted with her. Rain is a darling fluff ball.
You are probably used to high praise on your dogs, and I'll continue the tradition by telling you we are shocked at the temperaments of your animals.
We completely loved and adored our Shepherd, but he was never as calm and steady as your dogs. And we got him from a reputable breeder and spent a lot on him. I honestly never knew what the breed is supposed to be like temperamentally. I thought steady meant kind of scary. When I met Troy I really understood what steady means. He is the best. We truly love Shepherds and I think with Lila and Rain we'll have a true sense of what it means to own the breed standard. Stay well and soak your bones in that sunshine. It's foggy and chilly here in Malibu. All the best to you and Janet,
Nancy and Hank




Sun, 17 Dec 2000 16:04:37 -0800
From: "Lisa Rodino" <skyhaus@dellnet.com>
To: <troy007@earthlink.net>
Mary,
I've been having trouble connecting to my email server with the new provider I have (msn). The hotmail system is down.....temporarily, they say. But wanted to say "hello" and hope you've been getting some sleep and resting up for your week ahead. I'll be thinking good thoughts.
Lisa
p.s. Just found out that my neighbor has one of your dogs, too. The dog's name is Osa and I think Troy is her father. (My neighbor's name is CeCe and works for S.B. County Sheriff's.) Anyway, we had a nice conversation about your beautiful dogs and the great work you do. She was quite impressed with Django. By the way, he is such a quick study! He's already standing in front of the door when he needs out and is taking to the crate well, too.
Thanks for all the good advice. I've never had such good luck housebreaking a puppy!


Subject: our dog
Date: Wed, 14 Mar 2001 17:41:09 +0000
From:Theo Williams <theo.williams@realartusa.com>
To: "Hodges, Mary" <troy007@earthlink.net>
dear mary:
i think about you very often because we love our dog so very much and i have been remiss in keeping in touch with you.
thank you for breeding such wonderful animals. maxine is 95 lbs. huge and she is such a fun-loving dog--and a great watch-dog when you need her to be. she is warm and friendly to children and i can't say enough good things about her. she is beautiful inside and out.
i wanted you to know that just because we're out of site, you are in our mind and we are thankful for our lovely girl!
she is 3 now--maybe you don't remember us--i'm sure you have a lot of clients. halle berry was her mom. she actually got tan spots on the backs of her legs last year but not enough to make it a distraction to
her beauty. she has a constant smile and everyone remarks on her special disposition...plus, she thinks she is a retriever! she loves to fetch and run.
just wanted you to know. thanks again. theo williams


Subject: Brad Pitt.
Date: Mon, 18 Jun 2001 16:31:22 -0700 (PDT)
From: Ritabix@webtv.net (Rita Baron)
To: troy007@earthlink.net
Hi Mary,
Hope you remember us - The Candy Barons of Laguna Beach - Ron came to you around 6 years ago and chose Brad Pitt - then 9 months old - since re-named "Reuben."
We don't want to take up too much of your precious Shepherd rearing time......just want to say another big "thankyou" for our beautiful, adorable, sweet, loving, protective Reuben!!!!!!! He is THE BEST!
Hope you are well and the pups are thriving!
Take care!
Love from The Baron Family.
(And Reuben says to thank you for giving him a loving family & home.)XXX



Date: Fri, 3 Aug 2001 10:43:30 +0800
From: "Keith E. Tayman" <ktayman@adb.org>
To: troy007@earthlink.net
hi mary,
just wanted to drop you a line and let you know that mel is still the most beautiful dog in the philippines and there is not a day that goes by that i am not thankful we bought him from you. the quality of your breeding program certainly shows through hope all is well w/ you
keith tayman


Subject: GSD's
Date: Tue, 14 Aug 2001 16:17:39 EDT
From: MLi2456408@aol.com
To: troy007@earthlink.netI am an owner of two GSD's, a male and a female, and am passionate about the
breed.
This morning, when with my GSD's at a local dog park, I met one of your GSD's named "Zeus" and his person. I was quite stunned by the beauty of Zeus and asked his person about his breeder. She was nice enough to share the information with me and I simply would like to let you know how impressive Zeus is as an adult 5 year-old male representative of GSD's and of your work in breeding. Zeus is drop dead gorgeous and apparently has a wonderful
temperment as well as beauty.
I will keep your information so that I can come to you in the future. Do you ever show dogs at dog shows in the LA area?
Congratulations on your obvious success with GSD's.
Mary Little, Blade and Bo.



Subject Zeus
Date: Mon, 26 Nov 2001 0:37:16 -0800
From: kneier@earthlink.net
To: troy007@earthlink.net

Hello Mary Hodges,
I was so excited to see that one of the many people in the San Fernando Valley who stop to inquire about the love of my life Leybourne GSD "Mohammad Ali", nicknamed "Zeus", has contacted you! (refer to letter from Mary Blake & Bo, August 14th)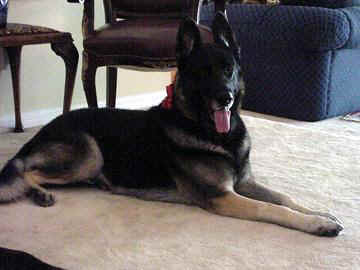 Zeus has such beauty, a confident, steady temperament, and a fun personality. Thank you once again for giving such a good, devoted friend. Good health and prosperity to you and yours at Shepherds of Leybourne.
Barbara Taylor-Kneier



From: Margie1@aol.comDate: Sat, 2 Aug 1997 19:42:45 -0400 (EDT)

To: troy007@ix.netcom.com

Subject: Your First Internet Sale Revisited

Dear Mary,

I apologize for not writing you sooner or more often...I do hope you remember me...Margie Scott and my beloved Quincy, who was your first sale off of the Internet!

I am happy to report that Quincy is the most wonderful dog in the entire world, Quincy will be two years old in December and when weighed a couple of weeks ago at the vet was up to 90 pounds. He is absolutely gorgeous with his black coat shiney like a mink coat (when he is bathed!). He is beautifully leash trained. Off leash, I have not spent THAT much time with him but his manners are quite good just the same. His favorite thing in life other than me (of course) is chasing tennis balls and we have quite a tennis ball graveyard going at any time in the back yard. All I have to do is say the word "BALL" and he is off to dig one up and deliver it at my feet. Quincy is very bonded to my older chow, Chester. They are so beautiful together....

Quincy has been the picture of good health. I feed him a wonderful food that I get delivered here to the house that is very good....it is a dry kibble of excellent quality and a decent price. I mix that with a little Pedigree and he is very healthy from it. I have literally had NO health problems at all with this animal. I remember discussing with you that he had exhibited some signs of Panosteitis early on but that has not reoccured at all. He is quite the runner (after those tennis balls) and we love to walk and run together on leash. He has turned into quite the protector, with a nasty glare and bark when strangers come around, which is what I want...but he is as gentle as a kitten and I thank God for the day that I found you and this dog. He was such a handful at first, I remember thinking a few times, "What have I done?" Mary, he is such a source of joy. When I put my face to his he licks mine. He also lets me romp around with him with total abandon, rolling onto his back and I swear, SMILING!. I am sure the love is mutual. This is one happy dog and one happy customer. I hope all is well with you and that Shepherds of Leybourne is making people as happy as I am every day.

Regards, Margie Scott


Mary,
You probably don't remember us, but we lived in Santa Barbara (Goleta) back 1989 and were able to get one of Doc and Maya's sweet little puppies, a female, and named her Britta. She is 10 years old now, still loves her Eucanuba, and does not go a day without our hearing compliments on her nature, demeanor, and outstanding beauty. She is without a doubt our best friend, goes absolutely everywhere with us in our Jeep Cherokee, and of course sleeps in our bedroom on her own air mattress. She goes to work with me many days of the week and hangs out at my office. She loves kids and babies, and spends the day watching over our 92 year old grandma. We now live at 8200 ft altitude in the Rocky Mountains, in Evergreen CO, and Britta loves to watch the elk parade by our house in the afternoon. She doesn't chase, but watches. She does, however, chase the foxes, and she is still quite fast.
She has had a brief career as a model for an animal photography studio, and was used as the headliner on their brochures and mailers after the owner saw her walk across a parking lot near their studio one afternoon. We have some incredible photos of Britta, and when I get my hands on a scanner I will send one along to you of her leaping through the snow here in the Rocky Mountains (where we have no fleas, no ticks, and no mosquitoes - really Canine Heaven!)
Nice to find your website and, as well, to find a picture of Radiant My Girl, Maya. Your dogs are the finest shepherds in the world, we are convinced. We recommended that our niece and her husband, Tom and Julie Yzaguirre of Studio City, buy a dog from you. They visited your place and, on the spot, purchased a magnificent male puppy about 5 years ago now, named Duke.
Best Wishes,
Doug and Phyllis King
4581 S. Hilltop Rd
Evergreen CO (303) 674-9745.


Mary...We got Cody's AKC paperwork. Thanks. We took him to the vet today for shots, etc. He's gained 10 pounds in 3 weeks...he looks sleek and lean...his coat is shiny and beautiful. Most importantly he has got this wonderful personality...he's calm, stable yet energetic and curious....he is so sweet...and of course intelligent ( it sounds like I'm describing my kids). He's quite a boy!!!!! Just wanted to let you know how he's doing. Hope all is well with you and yours. Jan in Tennessee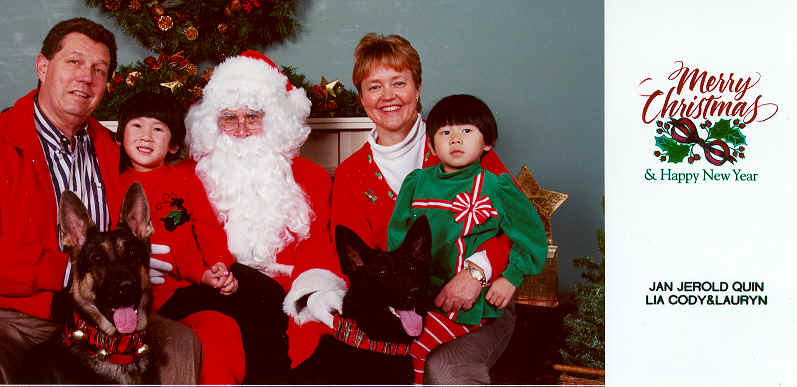 Date: Wed, 06 Aug 1997 19:28:44 -0700
From: Jim Eiman <eye-man@pacbell.net>
Organization: Pacific Design Window, Inc.
Hi Mary
I have a question for you but thought I should fill you in first. Hannah is doing great. She has an incredible personality and is as playful as they come. She is also as smart as any dog I have had the pleasure of working with. She is now about 15 months and weighs about 83 pounds. She is spoiled rotten but has learned all her obedience skill exceptionally. Thank-You for a wonderful friend!
Jim Eiman


Dear Mary,
Rather than ignore the message, I'll send a brief reply. Ms. Ali and I are finally fully bonded. Ali took her time bonding and spent much of the early weeks grieving for her former owners. It was obvious she loved them very much. But now she has bonded to me and I am very attached. She is a sweetie. She's pretty quiet most of the time, rarely barking. She loves to chase the tennis ball sent with her toys when I got her, and my grandkids love to throw the ball for her to catch. Ali returns the ball to me, rather than to them most of the time. Ali lost a little weight at first, pretty much declining much of her daily meals while she grieved for her previous owners. She'd stay by the front door and cry the first few days and my husband suggested I touch and hug frequently to show her my love. Now Ali has been back to the weight she was when I got her and has a healthy appetite. Don and Oprah still live in Southern California and I live with Ali and my youngest grandbaby in Northern Calif., but we are anticipating reunification soon as the job he sought when he went back to his childhood home in Ridgecrest, is drying up. When Don brought Oprah on a visit, he wasn't sure how they'd do together. They both did marvelously after some initial smelling and brief hostility (very brief). By now I am assuming Ali's previous owners have finished their move to Kentucky, so when you correspond, tell them Ali and I are now fully bonded and I thank them again for this wonderful dog. Both Ali and Oprah have made me a committed owner of the retired dogs from your kennel. If we get our own property again, we will probably contact you to see if there are any more retired dogs. We both love Oprah and Ali.
Thank you Barbara Cowley bcowley@tco.net:


Hanna Smith / Leybournes Oregon Shepherd
Date: Mon, 28 Apr 97 09:27:00 PDT
From: "SMITH, Wayne" <WSMITH@hoodrivermid.hoodriver.k12.or.us>
To: Mary Hodges <Troy007@ix.netcom.com>
In Hanna's first competition she won the big blue ribbon for the puppy class. The show took place in Walla Walla Washington. In Hanna's first two shows she could not compete but only watch due to growing pains. The fact that she was around the show ring had to help her get over some of the nervousness. I think mom was more nervous than Hanna though. Hanna will continue to go to school to get even better. She goes to school every Tuesday for obedience training and Thursdays for Show Ring work. She is really getting smart. She was bred for beauty and intelligence and it shows in a big way. My Wife loves her Leybourne Dog so much. Thank you so much for all the hard work you do for the Shepherd breed. You dogs are perfect. I do have one complaint. If I ever try to get close to my wife and give a hug or kiss I can count on a Shepherd nudging her nose/body right in between us. What a jealous dog!!!
Update from e-mail received 12/11/97
Hanna has been in 9 dog shows and has won her class in each of them. 9 for 9 is not too bad. We love our Leybourne Shepherd.


Hi Mary,
Just wanted to let you know how well we're doing. And to tell you again what a fantastic dog, Bronson is. He's got just the sweetest personality, and honest-to-God true companion I can't imagine not having him. I have this never ending gratitude for you since I got him from you. I think of you from time to time and Christmas time is the perfect time to tell you so. My kids are great and they love their Bronson too, he's just another member of the family! Hope everything is going well, and that your still "putting out" those Super Shepherds.
Love, Nancy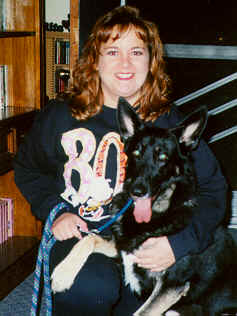 Dear Mary,
Well we changed her name again! Ali was to close to Ashley and Ashley was getting very confused. New name…Raven! It fits her well. Justin calls her the airplane dog we don't know why. She is gorgeous! She had her rabies shot yesterday and weighed in at 29 pounds. She does extremely well in the car and on a leash. She and Tasha are together very minute. You were completely right, they are good friends. Ashley has been accepted as a SAR trainee in San Jose. She and Bob make a good team. He is very proud! Holly is amazing. She is here 3-4 times a week. What a loving dog. She and my mom are very close. We got a few pictures of all 4 dogs on Christmas. When I get them back I'll send you some. I love my puppy to death. I really think she was meant to be mine. Thank you for making it possible!
Linda Davis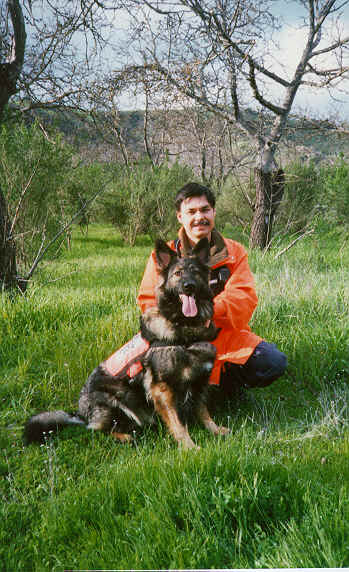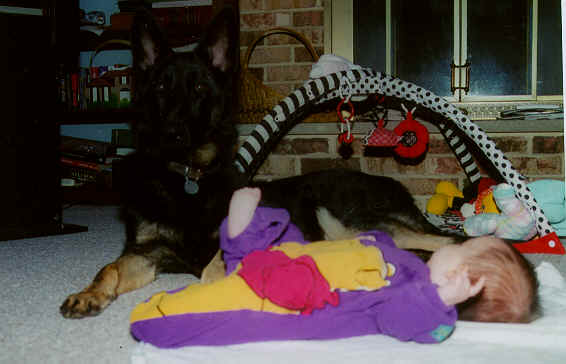 Mary,
We are so sorry to hear of the loss of Brooke Shields. That was a lovely tribute you wrote for her – made us both cry. If it's any consolation it sounds as if Brooke's granddaughter, Saba, inherited many of her traits. Saba is a loving, gently, sweet dog – truly an important member of our family. As Brooke was with puppies, so Saba is with Emily. Often, through the baby monitor I can hear her worrying at the crib. Sometimes, she's a better Mom than I am. Saba is a good protector too. Since the baby was born she won't even let her dog friends too close to us. She's very sweet about it, she just puts herself between us. Every day I am grateful for the wonderful dog you gave us. She is everything we ever wanted in a dog – and more. Rest assured that Brooke's legacy lives on in Saba and many other of her grandchildren.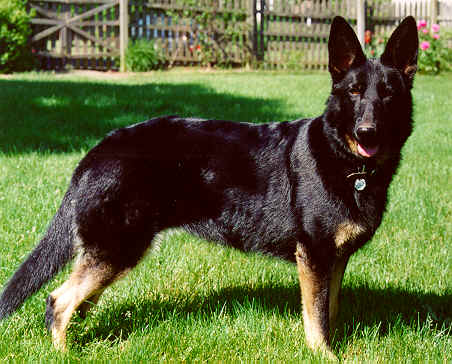 The Halperns of Pennsylvania


Subject: You made me cry
Date: Thu, 6 Sep 2001 23:39:32 EDT
From:JANILEE333@aol.com
To: troy007@earthlink.net

Oh Mary, Frank told me you added to your page-must have been yesterday. I visit your site every week-sometimes more. The story of the UPS sub was wonderful, but the letters of reference have reduced me to tears - You once gave me the "letter of the year award", yet the letters on your new site can't begin to sum up what I said in mine.
Frank does not know I'm in here crying (happy tears). It is comforting to know I'm just one of many who owe so much to you for your dedication in breeding the most wonderful German Shepherd Dogs on this planet. At the darkest times in my life, my dogs - heaven bred by you, have seen me through. I can never thank you enough nor express how you have enriched my life, how I value your candid friendship and what a tremendous loving bond I feel for you.
I hope you make the time to read the many loving letters that have been sent to you over the years, and reflect upon those with joy. Mary, you and Shepherd's of Leybourne are a legend in your own time, please cherish that, because it is true. I hope you realize how many lives you have touched and how very special you are to so many.
With Love and God's blessings always, Jan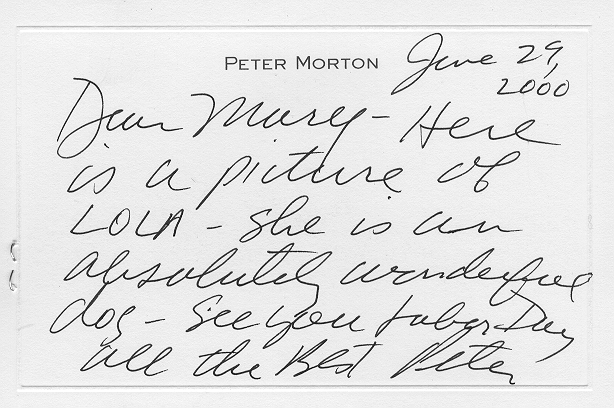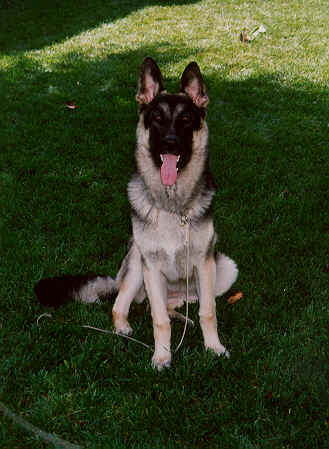 Dear Mary:
Hope all is well with you. Raven continue to be the best - lots of energy, a puppy still at heart, healthy and always up. One of these days I would like to get another coated shepherd from you. Stay in business please.
Love Phil & Heidi -San Diego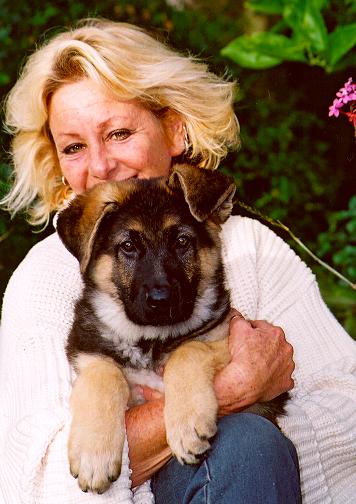 Meet Mojo - born 9-1-01 out of Bilt and my beautiful Dian Cannon, photo taken at three months old. Thanks for sharing Heidi you take the best photos.


Re:Pictures of Kuma.
Date: Thu, 11 Oct 2001 18:13:27 -0700 (PDT)
From:Cindy J Fitzpatrick <cindyj66@yahoo.com>
To: troy007@earthlink.net
Hello Mary,

This is Cindy Fitzpatrick, Damien's wife. I am e-mailing you some photos of Kuma at 9 months old. Sorry that it took so long to send you photos of the dog. As you can see, he is gorgeous and we love him dearly. Thank you for him.
I hope that you are doing well. Take care and I will be in touch again. I know that Damien would love to come and see you again, and I'm sure we will find the right time to visit, if it's okay with you.
If you can e-mail, we would love to hear from you. God Bless.
Cindy, Damien, Max and Kuma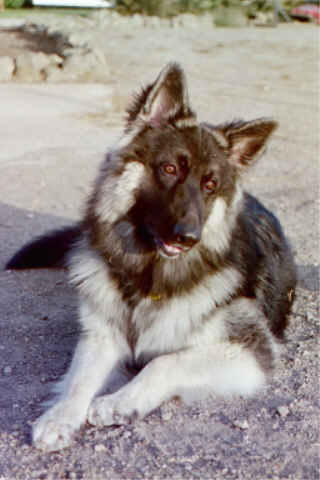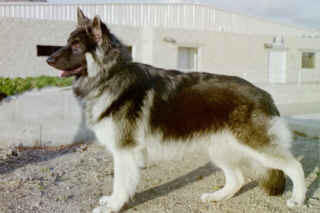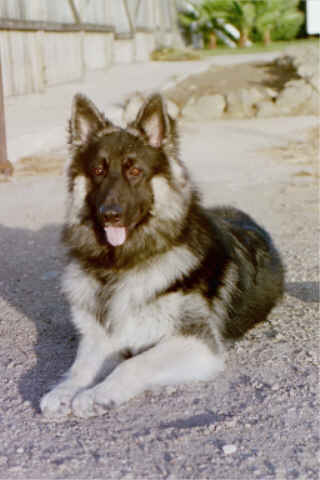 This is a Dian/Peter Bilt - 9 month old coated male, I saw the photos and said "WOW"


Subject: Puppy Page
Date: Mon, 21 Jan 2002 19:53:12 -0800
From: "Nancy and Bill James" <james.nnb@verizon.net>
To: "Mary Irene Hodges" <troy007@earthlink.net>

Hi Mary,
Just checked out you Puppy Page (Current Litters) and saw George Clooney What a looker! You must be so pleased and proud of him. I like the "and he is all mine" part. Just how we feel about Lefty. A litter a week ago and more a-coming. You are a busy lady. Hope all is well there. Get some sleep now.
Lefty loves his own, private, fenced yard (1/2 acre) where he can play in the snow. He is NEVER out there by himself. Only if we are there with him. He is our constant companion. He is such a well behaved, smart, devoted, sweet, loving boy and WE are the lucky ones. Thank you, again, for Lefty.
Nancy
Remember that wonderful day (or was it night?), three years ago, when Lefty (then known only as"Puppy-puppy-puppy") was born? And now look, The Little King! Happy Birthday, Lefty James!


Subject: Lefty James
Date: Mon, 6 May 2002 14:22:47 -0700
From:"Nancy and Bill James" <james.nnb@verizon.net>
To:"Mary Irene Hodges" <troy007@earthlink.net>

Hi Mary,
We're just back from the Vet where Lefty got his annual exam/shots and I
thought you would enjoy the Vet's comments on "our" boy. He said he is as
fine and as good looking a shepherd he has ever seen. He said his weight is
perfect for his frame (98 lbs.) and his coat is beautiful.
Lefty didn't care ... just wanted to be sure he went home with me!
Such a wonderful boy. I know you know ... but we love him!
Nancy James
P.S. -- He said I do a good job on clipping his nails, too! Good for me.


Subject: Lindsay
Date: Tue, 23 Apr 2002 14:58:26 -0700
From: "Esther D. Long" <anedlong@earthlink.net>
To: Mary Irene Hodges <troy007@earthlink.net>

Hi Mary:
Lindsay went to her first obedience training class with Dennis Van Sickle last Wednesday night. She did very well. Dennis and his wife, Betty, were both amazed at how much her face looks like their puppy's. We agreed that the dogs must have at least one of the same
parents. They both thought Lindsay is beautiful, as does everyone else who sees her.

She continues to want to please and has bonded wonderfully. We love her and she is adapting very well. Thank you for all the work you put into your lovely dogs.

Esther Long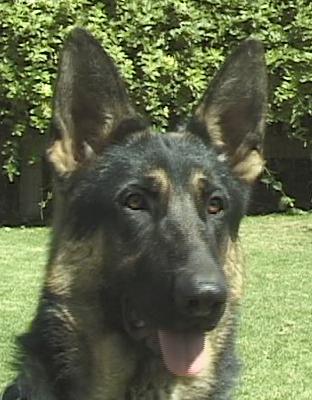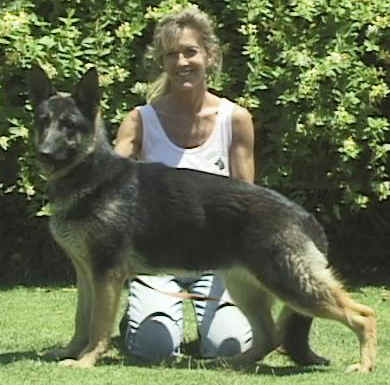 Meet Lindsay, born 6/23/00. Photos taken at 1 year old.
She was sold to older couple and has been a perfect addition to their family.


Subject amy grant
Date: Fri, 26 Apr 2002 14:16:53 -0600
From:"Sha Cohen" <sha@utemountaineer.com>
To: <troy007@earthlink.net>

Hi Mary,
I wanted to drop a line letting you know that Tara (Amy Grant) is doing great. I no longer manage the ranch, but I still live on it and get to help out with the chores from
time-to-time. Tara frequently comes to work with me, but sleeping under my desk is not the same as running around a ranch and being around cows and horses all day!
Here is a recent picture of us; you should post it on your site.
Thanks again for a great companion.
Sha Cohen
Ute Mountaineer
308 South Mill Street
Aspen Colorado 81611
970.925.2849 ext 12
970.920.2094 fax
sha@utemountaineer.com
www.utemountaineer.com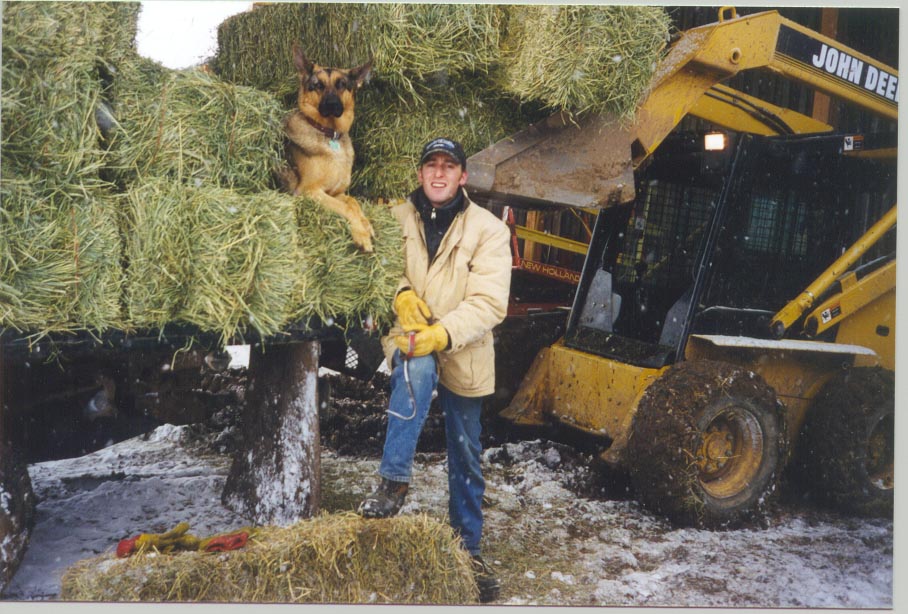 Dear Mary: June 25, 2002

Today is Daisy Mae's 2nd birthday. She is the most wonderful dog in the
world, everybody says so. I thought you might enjoy the attached photo of
her taken on Carmel Beach.

I hope this note finds you doing well.

Best wishes,

Mike Potterfield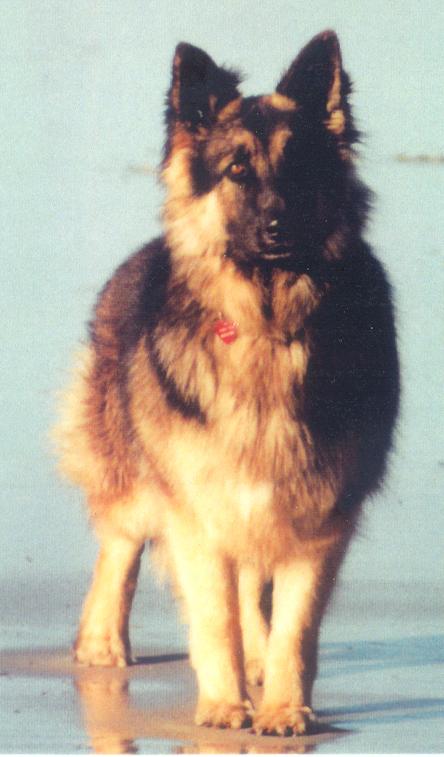 Hello Mary, June 26, 2002
Just wanted to make a quick hello and thank you once again. I was very impressed with every aspect of your kennel and that made me very confident in our decision today. What beautiful and personable companions you have in each of the dogs. I wish you the best and thank you for your extraordinary effort you put into your Shepherds. I look forward to maintaining contact as we raise our new beautiful shepherd.
P.S I was thinking about the name Kaya and I went home and looked on the internet and read that Kaya means , depending on the language, home is where the heart is, or summer's night, strength, or enlightenment. I think all of them depict what is evident in this little girl, so that is the name I have chosen.


Hi Mary;
This is Denise Clift, I worked for you almost 2 years ago. I hope you remember me. I just wanted to say hello and let you know that I was still working for the Humane Society in Santa Maria. I am now the kennel manager there.
I really enjoy my job although it's a lot of hard work. We have a lot of wonderful dogs and cats and at the moment even have a few German Shepherds whom I am especially fond of.
I want to thank you for getting me started in this line of work. I learned a lot from you especially as to how a kennel should be run and kept up. I take a lot of pride in my work and expect a lot from my employees much as you did from us. I have also learned how frustrating it is to have employees who don't meet up to your expectations. I have gone through a number of workers since I have taken over as manager mostly because they thought the job was going to be nothing but playing with the animals all day.
Anyway I just thought I'd say hello and I hope that you are doing well. I think of you often and remember fondly all the great dogs that you have. I'd love to hear from you sometime.
Sincerely,
Denise Clift