These true stories were taken from my Quarterly Reports, they are all true. I did these reports for 20 years, finally, I was not able to find enough hours in the day. Now, I print one issue which is in its 4th update and reprint. It is called THE REPORT - I hope you enjoy the stories
Contents Of Special Stories Section
Stories - Current Page
Go Ahead, Mr. UPS Man - Make His Day [Fall 1992 Report]
Love Story - Ali McGraw - A Mother's Love [Spring 1993 Report]
Von Saar's Kodiak [Spring 1994 Report]
The Tenants from Hell [Spring 1994 Report]
Trust is a Five Letter Word [Fall 1993 Report]
Letter from a Special Reader [Summer 1984 Report]
The Magic Jackson Story [Fall 1993 Report]
When Heaven became Hell [Fall 1991 Report]
Bear Kitty Hodges - a Love Story [Spring 1995 Report]
The Return of My Black Stallion [Summer 1995 Report]
The Audit [Christmas 1994 Report]
Christmas Dreams Do Come True [Christmas 1989 Report]
The Night The Water Went Out in Arroyo [Summer 1994 Report]
The Sting or "How to Catch a Thief" [Summer 1990 Report]
The Light Behind the Shadows by Helen Harris [Summer 1991 Report]
And This Too Shall Pass.....[Summer 1991 Report]
RASRAN aka TUFFY [Spring 1993 Report]
Anna Bear Bartak - A Tribute [Spring 1992 Report]
Leybourne's Doc Med - A Woman's Best Friend [Spring 1993 Report]
The King of the Gypsies [Spring 1993 Report]
"GO AHEAD, MAKE THEIR DAY MR. UPS MAN"
While my usual and very special UPS driver, Byron was on vacation [he's got a lot of nerve], I was subjected to deal with the substitute driver. Byron has for the last 10 years efficiently arrived at the property on the dot of 9.30 a.m. on each delivery day - he was wonderful. Further, he carried dog 'cookies' and before leaving he feeds all the house dogs. They love him. Smart move Byron! Needless to say my dogs now run excitedly to greet the uniformed UPS driver. Well, the sub, admittedly, was finding it impossible to get a delivery pattern which made it possible for him to complete the route at a reasonable time. He therefore was arriving at my property either very late or after the electric gate had closed. In the morning I would find boxes, which he had left the night before in the ice plant. Little did he realize that at night the automatic sprinklers would go on soaking the box and its contents!!! Fortunately, he had not left boxes containing items that could be damaged by water.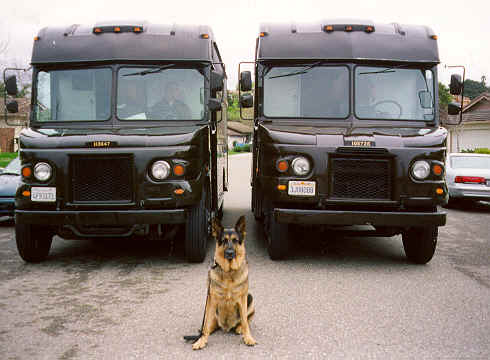 By way of communication we use a Motorola P-10 Hand Held Remote. We have 4 units. The last unit I purchased seemed to have excessive static, and after numerous conversations with the company I purchased it from, it was decided that it should be sent back for adjustment. This company is not my idea of efficient, and therefore it took them over two weeks to actually send out the call tag to UPS. During this time it was boxed awaiting pick-up. This meant it was not in use - highly inconvenient. Many conversations later it was finally picked up and promised immediate return. I certainly was not happy with the company at this point.
It was a Tuesday night, August 25, 1992. The time was 6.05 p.m. I had been awaiting the arrival of dog food and therefore the gate was still open. The UPS sub drove in and hooted. He told me that he had a C.0.D. from Digital Communications for $28.82! I felt like the bull in the bull ring seeing the red blanket for the first time!! I said ,"I refuse to pay for something that is supposed to be under guarantee". He said "Then I cannot leave it". I said, "You're not taking it and letting it go back into the system to be lost for two weeks or longer!". I told him to come into the house while I called the company to find out exactly what was happening. Needless to say they had left for the day. I told him I would write him a note to say I had kept my property and refused to pay for it, He told me that he either had to keep the Motorola or get a check. I said in the very forceful voice, "There are six German Shepherd dogs in this room that are not going to let you do that!". As is to be expected of good dogs, being aware that something was very obviously bothering me, they were very close at hand. Especially Troy who acted like eating this man would have thrilled him to bits!! So what do I say to Troy? "I'll let you know when you can have him Troy!" The situation would totally unnerve even a professional dog trainer - 6 one hundred pound plus German Shepherd dogs looking a little nervous and unfriendly! The sub believed that with one wrong move I would unleash their fury to tear him limb from limb.
The sub handled himself very well under the circumstances, and asked if he could use the phone to call his supervisor. While he was on the phone I opened the package and found that it contained my Motorola plus two antenna's that I had ordered. The C.0.D. was actually for the antennas - I was embarrassed... However, I should have been called to ask if I wanted to pay the usual way which was Visa, or whether I would rather have it sent out C.0.D.
Needless to say I apologized to the sub driver - profusely. He was very nice about it, even told me he understood since he remembered the pick-up on the Motorola. He also said he was going to try to come early, however it seemed that I did not get another delivery for days, and when I did it was again after 6.00 p.m. and he left them in the drainage area by the garage!! They could have been very smelly boxes by the morning if I had not brought them in when they arrived!!
"LOVE STORY"
Ali McGraw - A Mother's Love
"When God closes a door he opens a window". Avid report readers will recall the "Helter Skelter Story which appeared in the Summer 1992 Quarterly Report.
The Charles Manson murders were made into a film for television which was called "Helter Skelter". The scene I saw that day was certainly reminiscent of some of the scenes in that movie. In the new nursery, in the first run, was Ali McGraw and her 8 seven week old puppies. In the run next to it was Cinderella and her 3 week old puppies. Well, someone, [actually no one!!!! - the "ghost" of Shepherd's of Leybourne] left the door between the two Mother's open! Ali's very ambitious 7 week old toddlers went for a very costly visit. Cinderella, feeling that her offspring's were in danger from the bigger, older pups, stopped these unwelcome visitors from getting to her babies. The tragic result was 6 very beautiful, very dead males. It was a nightmare, blood everywhere. Five of the pups were found dead, one was still alive, but his condition was terminal, his eyeball was hanging out! I had to put him out of his agony. I never have before, or since seen anything that compares. I was aware that there was a very real chance of such an occurrence. Other breeder friends had told me horror stories. I never thought it could or would happen to me. My procedures were too thorough, my employees had been told to be sure one female could not get to another mother's puppies. However, someone had left the door unlocked, then I did not know who, now I do! The only good that has come from this incident is that the new safety precautions, absolutely prevents such an occurrence. I have actually spared my readers from the graphic scenes of this tragedy, but I never was a Steven King fan!!
It is now Sunday, January 17th, 1993. At 10.00 a.m. Annie Oakley went into labor. Annie had been bred to Monogram, and was very very pregnant. Annie had her first puppy at 11.55 a.m. Sunday, and by Monday, 24 hours later, and one trip to the vet, she had given birth to 8 puppies. At the vets everything checked out OK, she was given a calcium shot and sent home to have the rest of her pups. The first eight were very strong and healthy, eating well, and substantially oversized. However, something was definitely wrong, she was going 4 and 5 hours between pups, I constantly monitored her temperature, which was fine, Monday evening she went to the vet for more calcium, Tuesday morning at 7.45 a.m. she had puppy #12. Puppies 9 through 12 had all been born dead. Annie looked much slimmer, and upon checking her she felt empty.
That morning Tuesday, January 19th, 1993 at 6.00 a.m. Leybourne's Elizabeth Taylor went into labor. She did not make my life easier, she just lay in her whelping box, popping out pups, but leaving them in their sacks! I was therefore doing everything for her. Cleaning the babies, tying and cutting off umbilical cords, being sure all fluid was out of the lungs, and helped them get some of Mother's colostrum milk. Sleep for me had become the "impossible dream". Would I ever sleep again? Would my eyes see the backside of their lids? The good news was that "Taylor" had a very easy whelping and by 7 p.m. she had finished having her beautiful Troy pups, 8 males and 3 females - thank you Taylor. She was also being an excellent mother, feeding her pups and caring for their every need.
The night was very hectic, being sure that Mother's who may have diarrhea, were not kept waiting to go to the bathroom!! I would venture to say that I slept a total of 2 hours, probably in 20 minutes increments!!
As I sat at my desk working, I would look through my custom peep hole to watch Annie and her pups in the whelping room, She seemed very still and quiet. I however, put it down to the fact that she was simply exhausted from having 12 pups, which were all oversized. At approximately 2.30 p.m. she wanted to go out. I would usually call for one of the kennel assistants to take her out, so that I could continue with my work. I did not call for help, but rather took her out myself. I then waited with her and watched. Something was wrong... I called for help, and put her on the grooming table. Upon feeling her I could tell that she still had a puppy inside her. It seemed to be facing east/west. This was not good. Her temperature was 105 degrees. By the time she got to the vet it was 106 degrees. She was a very sick dog. Surgery was an option, but had a 75% chance of being unsuccessful. I made the very difficult decision. I just could not put her through such a major surgery with almost no chance of survival. I had brought Annie into the world, and she was a daughter of "Winston" by "Lacy". Older readers will understand the significance of that parentage. I was heartbroken.
I now had 8 orphans. The good news was that they were strong, healthy and had received excellent milk from Annie for 3 days. This is the important milk with all the protections these youngsters need. We got goats milk from Albertsons, and $11 later I had 4 small cans! I also needed Pedialite, but fortunately, I had some on hand. I then called Double D, my friendly dog food suppliers, who promised to drop off feeding bottles.
It is now 6.00 p.m. and I am alone. Sad, and emotionally a wreck, I called up Joan who lives next door. She and her husband, Jim have been friends of mine for the since 1968. In fact, it was at my insistence that they purchased the house next door. Joan picked up the phone to silence, but she knew it was me, and asked what was wrong. I started crying. I asked her to come over and help me with the pups. She is great with orphans. She came over and together we fed them, toileted them, and sponge bath them. I then made dinner for us. Before leaving she helped me feed them again. I do not think they were too happy about the change in the quality of the milk, and the nipple certainly had a totally different feel, However, the second feeding went a lot better than the first. Joan left, I went to bed, however I needed to be up in 4 hours to feed again. It seemed like by the time I got through with the eighth pup, it was time to start all over again. Would I really survive two to three weeks of this schedule?!!
During Thursday the feedings became easier. The orphans were adjusting to their new very expensive formula, and I had borrowed a nipple from the other neighbor's new born son which the puppies really liked. While feeding the pups I was thinking of just about everything and anything that would make this project easier.
Suddenly, like I had been struck by lightening, it hit me. Ali McGraw needed to be weaned from her 5 week old pups. She was enjoying them so much that I wanted her to have their company as long as possible. She still had milk and was in superb condition, with only three pups she had not been pulled down.
I called my close friend, and fellow breeder, Helen to ask her opinion, She told me that she had done it successfully, and to give it carefully a try. I had considered the Helter Skelter incident and had to wonder if Ali had been left scarred.
At first Ali was very uncertain about these strange pups. With time and patience we finally got Ali to settle down and relax long enough for the pups to grab a nipple. She then licked one, then another. Soon all 8 were lined up at the chuck wagon [aka Ali]. This was much better than the bottled stuff. I carefully watched her through the peep hole, She was doing all the right things, but was not as relaxed as I would have liked. She knew they were not hers, but she gave them all they needed. She was their Mother. They gained size and strength daily. They were finally going to be OK.
Unfortunately, the story does not end there. At least not for me. Exhaustion does not start to relate how I was feeling. I was physically and emotionally drained, Ali was settled with pups, now I would be able to enjoy a good nights sleep. NOT...
Friday night at 12.30 a.m. I got up to check on the pups, and give them a little extra milk in case they were not getting enough from Ali. I came in the kitchen in my 'Eddie Bauer" custom expensive blue soft leather booties. As I stood at the kitchen sink warming the milk under the running hot water, I felt my feet, inside my booties sinking into the wet carpet. I turned off the running water, to still hear running water!! The 15 gallon electric water heater located under the kitchen cabinet was gushing out water. I called the guest house to get help, but just got their answering machine, then the studio, again I got an answering machine, finally, I called my top employee, yet another answering machine! I finally reached a plumber friend on the phone who talked me through how to stop the water. Basically turn off the water to the trailer... I now could not flush!!!
I bet you think that has to be it for Mary.... Wrong. At 6.00 a.m. I let Ali out to go to the bathroom, she got by me and immediately took off in the pitch dark, looking for her three pups. Every dog on the property was barking. I am running through the rain soaked grass in my black nightdress and custom "Eddie Bauer" booties, I wanted to find a wet muddy puddle and sit down in it and have a really good cry - it seemed to fit. However, 'when the going gets tough the tough get going'. Ali romped around for about 10 minutes, then came back to me. I put her back in the whelping room and she immediately settled down with her new family. She loves her new family, but really is aware they are not hers. God once took away 6 pups, and gave her back 8, that is 33,33% interest.
Life seemed impossible. If it could go wrong over the last three weeks - it did! It was time now to regroup, count blessings, and get a positive attitude. I knew things could be much better, but they could also be much worse! I am one of the lucky few who make a living at what I love. In time of turmoil, I always reflect on the story of JOB in the Old Testament. That is always the quickest and best cure for my feeling sorry for myself.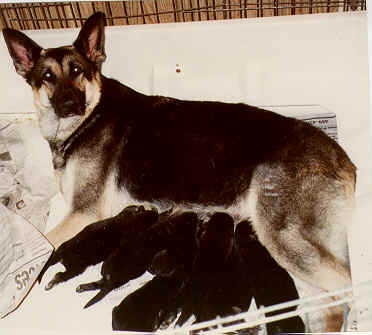 Ali and Pups
I am so very proud of my beautiful "Leybourne's Ali McGraw", she is a daughter of "Phantom" and "Megan" She exemplifies all the qualities that is SHEPHERD'S OF LEYBOURNE.
At the time of writing, "Annie's" pups were 4 weeks old and just starting to eat solid food. They are definitely very special children. Now 4 plus years later, the female puppy I kept from that miracle litter, "Leybourne's Shelley Long" has been retired to a big ranch in the Santa Ynez Valley. All females at Shepherd's of Leybourne are retired between 4 and 6 years old, so that they can really enjoy the second half of their life. They live with a family, where they will be #1 and always they have to be "roommates"! I recently received a call from the lady who has Shelley, and she is thrilled with the way she has settled in. She also feels very safe with a dog like Shelley to protect her. She had received some very serious threats from an ex tenant. Even with restraining orders she did not feel safe, and now does.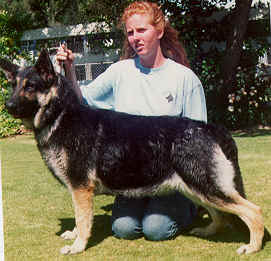 Shelley Long One of the Orphans - she was HUGE!
"VON SAAR'S KODIAK"
As I think back on my life with "Kody" and memories flood. Eleven years we were best friends, and for us it really was togetherness. From 7 weeks of age, we were never apart. Only twice, when I returned to England did I ever leave him. He was my constant companion 24 hours a day, 7 days a week.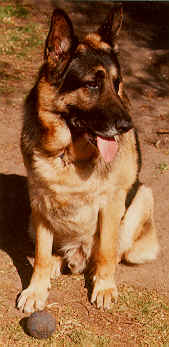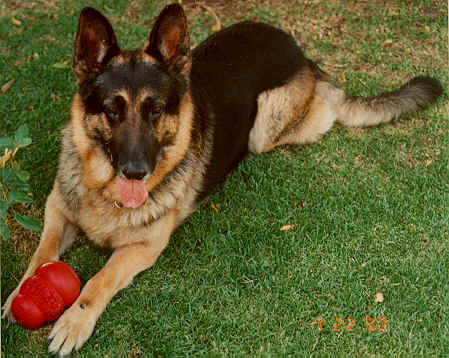 Of all the dogs that I have owned during the last 25 years, Kody would win the all time popularity contest. There have been so many people over the years who begged me to take Kody home. I recall one person who wanted to 'rent' him for the summer. They had planned a three month trip around the United States in a motor home and wanted Kody as their security guard! It was at that time he acquired one of his many nicknames. He was known as Rental Kody, which became Rent a Toad, which ended up him being affectionately called Toady!!
It was early in November when I received my new very special puppy. He had been born on September 23, so he was only 7 weeks old. He had parents who were so HOT and FAMOUS, that I had even agreed to show Kody in the Futurity. 'Show' to me is just another 4 letter word!
He arrived into my life the week before Thanksgiving -- he was such a great looking puppy. However, after one week his appetite waned, he got diarrhea, and started to throw-up. He had PARVO... You have to experience the disease to appreciate what a puppy owner endures. I still to this day credit the Thanksgiving turkey for saving his life, since the only thing he would eat was strips of meat. He had received immunization before I got him, and he certainly was not as seriously affected as some parvo pups, but it was a miserable Thanksgiving. However, the joy of seeing the sudden and immediate recovery that is Parvo, has to be one of life's great natural highs. Kody had survived and certainly throughout his life had no residual effect from his illness.
In my history as a German Shepherd breeder, Kody is the only dog who truly never did anything wrong. He never broke, damaged or mutilated anything in my home or yard. He never had an accident in the house, and he only bit people who were in the wrong place at the wrong time. At one point in his life he had a bite record with Animal Regulation, which meant he would have to go to jail at the Animal Shelter if he bit again. So, when he bit the strange Tina, the officer arrived to quarantine the black and tan male house dog. Tina was a very unusual person, she was known at Animal Regulation for other weird behavior. She sent me pictures of her dog bits. These photos showed her totally naked from the waist down. I then received letters telling me how she could not work, that she needed special lifting equipment to sit down, and that major surgery was very possibly imminent! I recall thinking of one of my favorite expressions, 'and this too shall pass' -- it passed. Buster, who was very similar looking to Kody took the rap, and did the time. What a great buddy system, Kody seemed to know and appreciate what Buster had done, because they actually were better 'buds' after this incident.
Kody went to his 1st and last dog show in Pasadena, when he was about a year old. He was handled by the great Bob Penny, and was competing with approximately 82 other aspiring superstars. This was the first time I realized the depth of his love for me. He was so intent on finding me outside the ring, he behaved 'hard to handle.' When the judges made the 1st cut, he got the gate along with 50 others, and that was the last time he ever left the show ring!
How many dogs can brag that they pulled Bo Derek face down through wet grass. I had taken Kody to meet John and Bo, for a series of articles I had planned for my then Newsletters entitled 'Kody's Famous Friends.' I was doing the photo shoot next to John and Bo's lap pool, and Kody wanted to leave Bo and come to the cameraman [me!!]. That is quite a claim to fame for me. For once in my life I found a male who choose me over Bo Derek! Thanks Kody...
When Kody was two years of age I took him in for OFA X-rays. I was told that he had absolutely no hip sockets, that he would only have a short life, he would have lots of pain, and should probably be put down. WRONG.
Kody never showed any indication that he even had a problem, he jumped into the station wagon, he would be the dog to pull his 'old leg injured mother, [that's me], through the deep sand at the beach, and at 11 years old his hips were, still not a problem. He led a totally happy and normal life with bad hips. There are theories that Parvo can cause the problem. While they are subjected to the disease, they have no real nourishment and it is such a critical growth age.
I recall the days when I first moved up to Arroyo Grande, I was living with friends. My residence was a 20' travel trailer, parked on their 14 acre horse ranch. It was so small that when I needed to go into the bathroom, I had to put either Demon or Kody outside. Demon and Kody were great friends, and I recall those days so clearly. It was just the three of us real cozy in the trailer at night, the third member of the group was Bear Kitty Hodges. We all got along so well, we had to...
Kody loved to play with Kong toys, in fact I cannot recall a time when he did not have one in his mouth. Every year on his birthday he would get a new King Kong, then his old one would be passed down to the next dog in the pecking order. Kody was always so very proud of his new one, and never let any other dog have it although Doc would always try. Doc had great respect for Kody and only messed with him just so far.
In December, 1993, I had noticed some bleeding from Kody's mouth. At first I assumed that he had just been chewing a little too hard. It got progressively worse, and it was time to take a trip to the vet. It is not unusual for an 11 year old to start to have some serious teeth problems, however, with a little simple dentistry everything can be fixed. Not so for Kody. His surgery was scheduled for Monday, December 13. At that time a wart like growth was removed from his mouth. The area was quarterized to stop the bleeding. Kody was sent home and the wart was sent in for a biopsy. By Thursday the bleeding had resumed, but was now much more profuse. Friday the result of the biopsy. Kody had cancer. The only way to give Kody any more time was for more very extensive surgery, gum scrapping, and major tooth removal with no guarantees. I would not do that to Kody. He deserved better than that. I am a Dr. Korvorcian fan. The decision was made on Friday, and Kody had an appointment on Monday. This was going to be a very special weekend for him. Due to the excessive bleeding, he could only eat soft food. I spoilt him rotten. I let him feel favored over the other dogs, and whatever he wanted he got. He started the day off with a can of albacore tuna, [the good stuff], then he had three scrambled eggs, and as many hot dogs as he could eat. I must admit I carried around a can of room deodorizer!! It was worth it Kody felt so special and he was so happy being King for a weekend.
When the time came to take his final journey. I said my fond farewells with big tears welling in my eyes. It was a good decision. Kody went peacefully, his last days were filled with happiness, and he knew he was deeply loved.