CHRISTMAS DREAMS DO COME TRUE!
The Holiday season always makes one a bit nostalgic. I had just moved my very successful German Shepherd Breeding Kennel, Shepherd's of Leybourne, to a new and exciting location in Arroyo Grande, in the San Luis Obispo County. Truly God's country, just minutes from Pismo Beach, and boasting about the best climate in the whole United States.
Even with all the excitement of my new home, it was Christmas, and I was missing the familiar. I picked up a copy of THE LOS ANGELES TIMES to hopefully ease the pain.
In the Entertainment Section, famous people were stating what they wanted for Christmas. The one that caught my eye was from Scott Baio. Like so many of us, I had watched Scott grow up on camera. First on Happy Days, then Joanie Loves Chachi, [definitely my favorite] and now Charles in Charge.
Many years prior, I had the good fortune of personally meeting Scott while he was filming an episode of Happy Days, at Hanson Dam Recreational Park. What a charming and breathtaking young man! I was riding my beautiful Black Arabian Stallion, Gayjur, close to where they were filming. Gayjur is a shiny blue-black horse, with gorgeous flowing mane, and a tail that trailed on the ground it was so long and thick. Scott noticed Gayjur and walked over and said , "This is the most beautiful horse that I have ever seen." We talked for about 10 minutes until his director Jerry Paris called him back on set. He left but without making a devoted lifetime fan, in awe of his good looks that the camera still does not capture.
My attention was immediately drawn to Scott's wish, he wanted a German Shepherd puppy for Christmas. I excitedly wrote to Scott reminding him of our previous meeting. I told him that for the past 20 years, I had been a top breeder of German Shepherds, and granting hid Christmas wish would be my way of thanking him for all the years of pleasure he had given me both television and movies.
I was somewhat surprised, but thrilled to receive a reply. It was on his own personal stationery, and must have been written by Scott himself, for he would have surely fired a secretary for making so many mistakes!! Scott explained that he was looking to buy a house and he would very much like to take a rain check.
I immediately replied sending my Newsletters, pedigrees, and photos to motivate his desire for a best friend, and told him that whenever he was ready, his puppy would be waiting for him. That was in the Spring of 1984.
Scott always kept in touch, so cure and humble at the beginning, saying, "Mary, this is Scott Baio, do you remember me?" Get real Scott!! How could anyone forget you… He kept be posted on the progress of hi house hunting, one time we came really close but the geologist's report was not favorable, and the chances of the home staying at the top of the hill were slim!! During the past six months there had been a definite escalation in phone calls and the length of our conversations. Scott had decided that he wanted two dogs not one. He asked me to let him know when I felt had the right combination for him. He wanted a solid black, which was Shepherd's of Leybourne's speciality. I called Scott, who is now very comfortable in his new home, and told him of these two perfect brothers. One solid black and the other black and red. Disposition and attitude a plus and maybe even better looking than Scott himself!! Scott's only worry now was his very pressing filming schedule. I must admit I wondered if he would ever make the three hour journey to see my beautiful dogs and the very special pups I had selected for him. I had backup offers on both pus, but I wanted Scott to have the very best so I decided to gibe him the one more week, as he had requested. The week passed, no phone call, then at 12 noon Saturday the phone rang, "Mary I'm on my way" Sure enough he would finally arrive.
Scott was still the exciting, handsome and funny man I had remembered. I was completely comfortable being with him, and it was love at first sight, with the pups I mean. I must admit, however, I tried to sell Scott on the concept that the older women are all the rage and I would be happy to train my dogs to call him "daddy". When Scott noticed one of my horses and told me he thought he was beautiful, I immediately replied that after the wedding it was his! Oh well, it was certainly a fun fun afternoon.
So finally, 6 years later, Scott's Christmas wish becomes a reality. Scott named his solid black male, Leybourne's Tucker, and the black and red male, one of my favorite puppies ever, he named Leybourne's Sharkey. I feel sorry for the women in his life, I have a feeling they will take a back seat to his very special "boys". Perhaps Charles in Charge will have a new assistant housekeeper!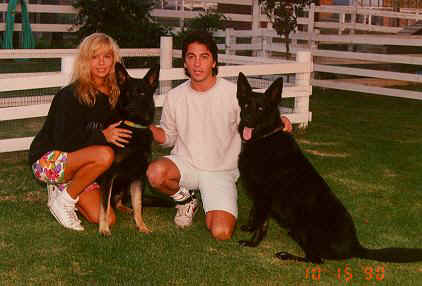 Pamela, Sharkey Scott & Tucker
"THE NIGHT THE WATER WENT OUT IN ARROYO"
What is worse, "A PUB WITH NO BEER!" Or "Shepherd's of Leybourne with no water"!
You decide!!
It was a cold, dark, dank May night. I had been peacefully reposing in my bed, surrounded be my many loving critters. There was Bear Kitty Hodges by my face, Puff lodged in my back, Troy laying beside me, with Bones, Cruise, and Baio on the floor around my bed. Something woke me up, so I decided to make use of the break in my sleep to use the restroom. When I flushed the toilet I realized something was wrong, the tank was not filling! I immediately turned on the faucet…no water came out!! I guess you have to own property with a well to understand the sheer panic that takes over the body at such times. I immediately put on appropriate dress, found the trusty flashlight that had served me so well during the 'tenant' fiasco, and set off to visit the water pump. On he way to the pump I checked three different faucets to find them all without a drop of water coming from them. This led me to believe the tank was empty, since when all else failed we always have gravity flow and hence always have water – NOT! The noise coming from the equipment made it painfully clear that all was not well. I followed the given procedure, immediately shut down all systems so the pumping equipment is not burned out.
By the time I returned to the house it was approximately 2 a.m. I called my water well company, and left a message on their trusty recorder. I had done all I could do till the light of day.
By this time by body was in severe state of panic. I believed that my left side was becoming numb. I had some Valium left from my 1989 trip to England. It was necessary to get me into the 'metal' bird, which was the only way to get to England. It was my parents 50th wedding anniversary, and that was certainly good reason for making such a sacrifice (a twelve hour flight). Being a person who never takes pills, I almost felt guilty taking this pill, even though this was the perfect application for use of such a 'nasty' drug. I went to my de-stress machine, the Sega television and my new very exciting addicting game. No one could believe when I told them later that I could not even play Sega!! It was about this time that I personally realized the gravity of the situation. I was now convinced that I was in fact having a stroke!! The numbness in the left side had escalated and it was just a matter of time. I decided that if I was going to be terminal by morning I should be looking good. I could not wash and clean up without water, but I should at least be wearing something cute. Sleep was impossible, even the dogs were silent. There was nothing to take my mind off my impending stroke. I was a matter of time. I wonder why I did not write a farewell note…
As I have quoted so many times before, "this too shall pass". It was now 6 a.m. on the dot; I called Justine to tell her not to flush until absolutely necessary, since we were totally out of water. I also called Jim and Joan next door to ask I could come over and borrow some water so that we can at least have water for the dogs. I again called the well company to leave a second message, just in case the machine was not functioning properly. As an ex boyfriend taught me, if one is good two is better! I am not sure I ever really understood what he really meant by that!
I then started up Mack; older readers will know that he is my all terrain quad runner, which is so very useful around the kennel for moving and hauling things. Now bear in mind, that I have long 'phony' but pretty fingernails, my condition is distressed, and I need to hook up a very heavy wagon to Mack in order to transport the water. Thing the wagon was secured I moved forward, thud… It had come off and was rolling down the property. Billy, my new excellent Gardener/Handyman was asleep in the guest studio behind the barn, Not wishing to actually disturb him, I instead mad lots of noise with Mack hoping he would hear me revving the engine and like my knight in shining armor, would immediately come to the rescue and save the day. Well, what can I tell you, he is a mere mortal man, and slept though the whole thing!! Finally all was secured, however, some very competent former employee had removed the back gate from the wagon. Which, under normal circumstances, would stop my water form falling off. Slowly as she goes was unfortunately not slow enough. Just as I came to the horse pasture, where Spot and Chip had very carefully been following the early morning activities, one barrel went flying off, and so did Chip. It was about that minute I remembered what it was about riding Chip I found to be a little hazardous. I finally reached Jim and Joan's faucet, and proceeded to fill my barrels. Joan's pit bull, Dede, came down to visit, but soon left. Once I had the water it was time to start the journey home. I had been smart enough to have turned around before filling up. However the extra weight was made turning very hard. In fact, right turns were close to impossible. As I was traveling down Noyes Road, an oncoming car seemed to be unaware that I was coming toward him. With my heavy load, moving off to the side of the road was out of the question. Who was awake at that time of the morning anyway! We he suddenly noticed me and went around. Not before my vivid imagination had considered the results of the moment of impact! Not a pretty picture. Now safely back on my own property, almost like in the board game 'Sorry', I was in the safety zone. However, when I reached the top I was unable to turn around toward the house. I could go straight up to the barn, but I did not want to go there. Fortunately, Justine who had been at my house awaiting the phone call form the well man saying he was on his way, saw my predicament, and came to the rescue. By putting a little extra weight on the right front side, I was able to get to the house. At least now we could flush!! Justine had used her time very effectively, she had used here very own bottled waster to make the baby food. When I got back it was great to know that she was so 'with it' under the circumstances. I was very impressed. We have a very large water storage tank that holds about 30,000 gallons of water, and that was bone dry.
At 7 a.m. my staff arrived at work, they were certainly surprised to see the three large containers of water waiting for them. I now felt it was okay time to page the well company. Within a few minutes I received a call right back. I explained the problem and was told that they would be right out. Of course it had to be a Saturday, with is the day we have most of our appointments, and the least staff working. Also, perhaps a day the well company either does not work or only has one person on call… Fortunately, the Gods were with us, by 8 a.m. the truck for the Arroyo Water Well Supply pulled in and I was fortunate enough to have the owner driving it. Things were looking up…
By noon it was decided that the entire pipe in the well had to be replaced. However, upon completion of that, I should have water restored. At approximately 2:30 p.m. I turned on my kitchen faucet, and like a miracle, water came flowing out. It is truly amazing how you appreciate water coming though a faucet, a flushing toilet and the prospect of a hot shower.
"THE STING" or "HOW TO CATCH A THIEF"
Story told in the DRAGNET series style
Kennel Assistant, a job title so many want until they have spent a couple of weeks in the early hours of the morning, picking up after the dogs, washing out buckets and filling feeders. In the winter months the hands are totally numb from being in so much cold water.
My name is 'Saturday' that one is better than Friday, Joe Friday. The day, April 1, 1990, [honestly] the time 7:30 a.m. the place, Shepherd's of Leybourne. Our suspect arrived for her first day at work. As the weeks passed, our suspect, aka "Samantha" aka Sam was doing a fantastic job and the dogs adored her. [Thy were punished by two weeks of grounding and no 'goodies'] [Except the studs!!]. She had even shown interest in the horses and I had agreed to give her "Chocolate" as her very own.
Finally Bob [aka Saturday II] [he is my right arm] and I had found a Kennel Assistant who would fit all our needs and who was prepared to work full time. I guess only 'Saturday' and 'Saturday II' would truly appreciate what this means.
Sam, this young, bubbly 18 year old, worked expeditiously, thoroughly and looked as though she was enjoying everything that she was doing. I found myself constantly complimenting her [very unusual!]. She tried so hard to please, and did a very good job of it.
The day is Sunday, April 1, 1990, time early. 'Saturday II' reports the Saber Saw, which was used by my friend Brett to make a new doggy door, was missing. I called Brett, left a message on his recorder and waited for the return call. Sunday evening at 7:30 p.m. the phone rang, Brett tells me exactly where he left the saw. I went to the location, found an electric sander which I almost mistook for the saber saw – no blade, I immediately knew this was the wrong tool. Monday morning, 'Saturday II" reports threat the level and the sander are now missing.
'Saturday' and 'Saturday II' plotted together the set a trap. Clouds of doubt were rampantly drifting around the property, was it really stolen? Or just now put away after using? 'Saturday II taped the garage door, and put wires with cans attached, for our thief to trip over and hence wake the 'guard dogs' causing enough commotion to catch our suspect in the act.
This procedure was carefully instigated nightly for the next three days. Wednesday, I had to leave the property early to go to Santa Maria. I left 30 minutes before 'Saturday II was scheduled to arrive. Then Thursday, I left to pick 'Saturday II' up at Valley Auto, who were going to put a new radiator into the station wagon. We were both gone for approximately 35 minutes.
The day Thursday, the time 9:05 a.m. seemed like any normal Thursday. I recall noticing my Tupperware container of vaccinations was in a strange position in the refrigerator! Later this fact would be the 'proof of the pudding'. Sam efficiently finished her shift and left. Shortly after, someone came to buy some dog supplies from me and paid with $5 in quarters, do I mind?, no I will put them directly into my coin bank. I reached forward to pick up the cute quarter coin bank, it was gone! I call 'Saturday II' to the scene. He looks under, over and behind no coin bank. 'Saturday II' advises me to check the Jewelry Box. "No!" I said, but I did. EMPTY totally cleaned out – such an incredible eerie sensation.
Assisted by the local Sheriff, a plan was devised to "catch a thief". All the money in the house was photocopied in order to have identification proof. The list of missing items, as realized, grew almost by the minute.
Our suspect who until now had only worked in the kennel, had very sweetly offered to clean house and seemed most anxious to do so. This offer should have made me suspicious, no one ever wants to clean my house! She arrived at 7:00 a.m. on Friday, April 6, 1990.
I spent a very nervous night, part of me hoping she would not show, and the other half of me hoping she would so that she could be caught red-handed. All my mixed emotions churned inside me. The night passed somewhat faster than usual die to the fact that just the week before the clocks had been put forward.
The day, Friday, April 6, 1990, the time, 7:00 a.m. I waited nervously for the sound of a car coming up the driveway. The minutes passed, slowly, each at least 3 minutes to pass, or it seemed. No Sam…
Minutes before 8:00a.m. the phone rang, it was the Detective to ask if the suspect had shown up for work. We decided I should call her to see if she was coning into work – that would have been the usual thing to do. She answered the phone and told me that she would be here in about 10 minutes. Now I really let the panic set in. Now each minute took at least 5 minutes to pass, the sound of an approaching car. My Oscar performance was about to begin!
"Good morning Sam, boy am I glad you showed up, I hate a dirty house." She busied herself happily in the kitchen, doing greasy clean up jobs, her happy personality actually comfortable and enjoyable to be around! I purposely left the office and my available purse at her disposal several times. Upon getting back I would and the first opportunity check to see if anything was missing. I was starting to think she was not going to take anything, so I really stayed away for a ling time and to my joy when I returned $10 had been taken from my wallet.
As I instructed I called the Sheriff's Office as soon as she left, and reported "our suspect left the scene with the property!" [it was just like in the movies] As the story goes, she was followed, apprehended, and BOOKED. After a short interrogations she admitted to everything, including things that I had not even started to realize were missing, such as clothes. Later in the day some of my belongings were brought to me for identification. Seems that she confessed to the Jewelry and even gave the name of the pawnshop, which come to find out is not very reputable. The Officer believes that the gold was probably melted immediately. I had to identify one of my gold charms that contained a 30-year-old English Pound note, the sealed gold casing was gone and he showed me the folded not. In England they do not have one-pound notes any more and it is a collector's item – ruined by a greedy girl. I also had a solid silver pencil stolen that I had won at the age of 9 for being the "Best Child Rider 9 years and Under". I was so proud of that win, and treasured the pencil, which was fortunately was recovered. And so it goes on…
It's over, I am so terribly scarred and feel so personally violated by this incident. I have dealt with so many shady characters, who I believed would readily steal from me, but never anyone who was so sweet to me while stabbing me in the back. She took money from my wallet, clothes from the closet, ALL my gold, coins from my dresser, a money box from my desk, and as of today who knows what I still will discover, the but he grand total so far of missing things that I am aware of is over $12,000. However, the things that hurt the most are sentimental things such as some very special memories, which have been abused and soiled.
Sam is scheduled for a trial in June 1990, at which time I hope to stand up in front of the judge and tell him me views of the young person who so blatantly betrayed trust – is anything much worse…
THE LIGHT BEHIND THE SHADOW:
A TALE OF TWO HORSES
By: Helen Harris
When I was a child I often liked to play with dominoes. I would stack them in rows, then watch them all tumble with a flick of my finger. At he time I thought it was rather amusing. Little did I realize how closely this game resembles real life in what some people refer to as the "domino effect", but when I affectionately call "When #@*! Happens, it happens all at once". In other words, "it never rains, it pours!"
Becoming a veterinarian is something I've wanted to do all my life. In September, my dream was finally coming true. I moved to Davis, started vet school, and somehow managed to get married in between. Of course, it was all as easy as that. There were some difficult times, but I had a wonderful husband, two dogs, and a cat named "Mr. Mudd" and my beautiful horse, Walker, to help me get though those trying times.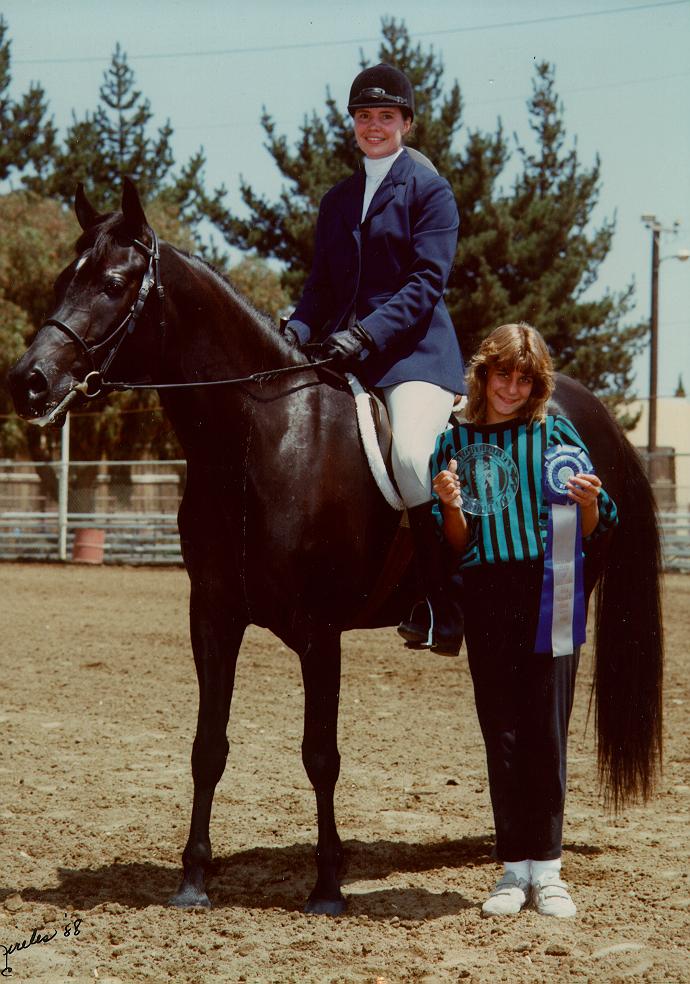 Helen & Walker
Soon Christmas came and I finished my first quarter of vet school with my sanity still intact (quite an accomplishment). Steve and I had adjusted to our new marred life and were both really quit happy. Everything seemed to be going pretty well. Then, I n January, I had to have my dear old Lassie put down from severe arthritis. She was 16 years old and I know she had led a good life, but it didn't make my decision any easier. I was still grieving from her loss when my little sheltie Heidi, had to undergo surgery for an abdominal abscess. Soon after that my kitten, Mr. Mudd, tested positive for feline leukemia. I was beginning to wonder if things could get any worse when Walker suddenly developed a severe lameness.
Those of you who have kept up to date in Mary's newsletters may recall a story or two about Walker. Walker was a son of Mary's beautiful black stallion Haazem. He was also black and full of personality. I fell in love with him when he was only a two year old. Seeing my affection for this special horse, Marry offered to let me work for ownership of Walker for which I did for a period of two years. Walker and I to horse shows together, rod the trails and soon developed a very special bond. He was literally my dream horse!
When I found out that Walker's lameness was due to laminitis my heart sank. Laminitis is probably one of the most feared and least understood cases of equine lameness. In severe cases, it can cause a hors's hooves to literally fall off. Secretariat, the famous racehorse, was put down because of laminitis. Mary also lost Haazem to laminitis. I know there was little hope for Walker, but I had to try everything that could possible be done.
Fortunately, the best care I could get for him was available right at the veterinary teaching hospital. For 12 weeks, we battled Walker's laminitis, trying everything from daily foot soaks to tonotomy of the flexor tendon in his leg. At times he would seem to get better, only to turn around and get worse. Finally, we reached the point where there were no more options available. The time came for me to say goodbye to a much-loved friend. It was the most painful goodbye I have ever given.
I called Mary as soon as it was over. She had kept in touch with me during the whole ordeal and knew what I was going through form her own experience with Haazem. I was so shaken by my experience that I felt certain I would never have the courage to own another hors. Then came Mary's offer of Shady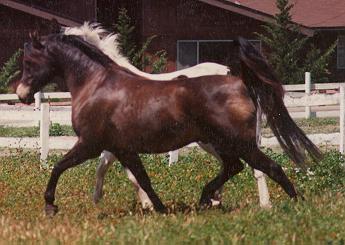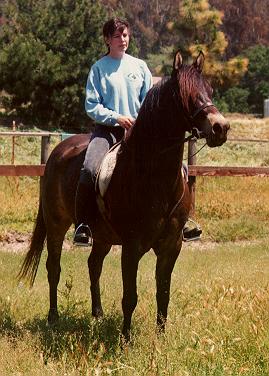 Shades of Gold - SHADY
Shady is another son of Haazem. He is so cute and sweet that everybody likes him. He is also one of Mary's favorite horses. When she offered to send Shady up to Davis so that I could have a horse to play with, it was indeed of the most generous offers I have ever received. I knew that I needed to have something to fill the void I felt, so I accepted her offer. Mary stared a "Shady fund" and gathered donations for his transport to Davis. Two weeks later, he arrived.
Having Shady here has really helped me deal with my loss of Walker. He is such a joy to have around, and everyone at the stable has commented on his beauty. I cannot say that he will replace Walker. I don't believe that you can replace a pet the way you replace an old pair of shoes. Instead, you grow to love the new one for its own unique qualities. This, I will do with Shady.
If there is anything I have learned from my experience it's that while bad things do tend to come in bunches, they always end when the last domino falls. The next time I see shadows in my life, I will remember that there is always a light in front of them.
Addendum: Four days after Shady arrived he cut his leg so badly (no one knows how) that it required surgery. He is doing fine now, and I'm sure it was only the last domino falling.
…AND THIS TOO SHALL PASS
Many years ago when I lived in Lake View Terrace, I adopted the expression, '. And this too shall pass' Why? It was a very rare winter with more rain that we could manage. So much, that roads were washed out. Approximately a one mile square radius around my property became surrounded with the rushing floodwaters. For three weeks I lived on an island!! They were scary day. I believed that my house would get washed away, some did. Actually, such an occurrence was virtually impossible. Being blessed with a vivid imagination, comparable to that of David Copperfield, that master magician, I was able to create monstrous situations in my mind. I recall looking out the window at the raging storm and thinking I would one day look back on these terrible times. Thus the title of the story was born. So many times I have recalled those exact words to help me through a present crisis.
So too for Helen, my very special young friend who has been through some really hard times lately.
When I heard of Walker's problem from Helen's mother, I immediately called. At first we believed that it was just a very mild case. We were confident he would recover and lead a normal life, this was not to be. The night Helen called to tell me that she had decided to put Walker his pain we cried together. I offered her my best on a semi permanent load, Shady, my beautiful ¾ Arabian Buckskin Gelding. Shady, a 5 year old, was raised with Walker, he was one year younger, and Helen had broken him to saddle when she worked for me.
At first I was surprised she would even want another horse. She told me that she did not want to decide until she had said her final goodbye of Walker. Within the week, she called to say that she would love to have Shady. She and Steve came down that weekend to visit and Helen rode him, I took lots of photos, and felt sad at the prospect of not seeing his very beautiful presence in my pasture.
A few days later the big shipping van came to take Shady to his new home in Davis. Then tragedy struck again. Shady arrived on the Monday, on Thursday he had somehow cut his foot so severely that he had to be hospitalized – he certainly was at the right place to get the very best care. A first there was a question as to his future… Happily the crave situation soon passed, and in less than a week Shady was back at the stables. I spoke to Helen today she told me his stitches come out next week and she will then be able to start riding him again. Shady is the new love of her life.
So for the present, both Helen and I can say "AND THIS TOO HAS PASSED".