Bred for Disposition, Beauty and Intelligence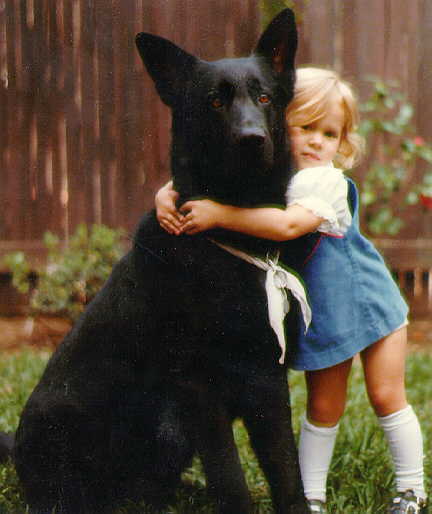 Leybourne's Black Demon and Kimberly 1976/1988
OFA Excellent

Breeder of top quality German Shepherds since 1969
Pups / Adults
AKC / OFA / USGV
ALL COLORS AVAILABLE
Bred for Disposition, Beauty and Intelligence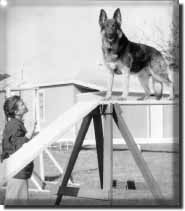 Leybourne's Troy Built 1990/2002
OFA Good

For more information
Telephone: 800-245-8232

Email: shepherds@leybourne.com


Shepherds of Leybourne, situated on the Central Coast of California near Pismo Beach, offers a manicured, five acre plus park like setting for the raising and breeding of top quality German Shepherds.
German Shepherds are my life, my passion, and the environment in which I live is my paradise. I make a living at what I love. I share my bed with Troy, my #1 best friend, Sean Connery, and Puff my Maltese/Terrier mix. I also used to share it with Bear Kitty Hodges who I recently lost at the grand age of 22!
All money made goes back into the constant upgrading of the dogs and the property. When I purchased this property in 1984 it was 5 empty acres. I built it stick and stone at a time. You should see it now! It makes me proud.
As a breeder of top quality German Shepherds since 1969, I am very confident of my young stock, who have proven Champion blood lines. I personally have experienced 'hands on' closeness with the many generations that went before - I knew them all on a personal level. I am so proud of the dogs produced over the years and those planned for the future. They have beauty, temperament plus, great heads, pretty faces, heavy bone, intelligence, and, of vital importance, longevity. I sincerely believe that my breeding program has made a significant, positive difference to the breed.
---
All of the dogs and puppies sell with a fully comprehensive guarantee to eight years of age. Also, lots of after sales help in raising and training. The puppies start a basic training program at the age of 3 months, older puppies go into more advanced work, including agility work.
All dogs and puppies are groomed twice a week, and get toenails cut weekly or as needed.
Dew claws are removed at birth.
Shots and wormings are done at the optimum time.
Breeding Dogs are microchipped for permanent identification.
Stud Dogs all have DNA Certification
All breeding stock are OFA certified.
Shepherds of Leybourne offers a variety of services such as grooming, training, and boarding. Boarding at Dog Heaven Hotel, is your dog's dream vacation!
---
Puppies and young trained adults start at $1,500.00 -- terms are available. However, we sometimes have dogs for less. Also, my breeding bitches are retired between five and six years of age, so that the second half of their life is with their own special family.
Tell a friend --get a best friend and family protector for your life. Be sure to enjoy the fun at Shepherds of Leybourne by clicking onto our picture page, welcome pictures page, and video page. Call for more information. The dogs are shown by appointment only. This allows ample private time for only you. All your questions can be answered, and you will not feel rushed. For $25 [$15 being refundable at time of purchase] Shepherds of Leybourne offers a 62 page full color publication. This publication contains complete information on Shepherds of Leybourne with lots of photographs, great dog jokes, wonderful heartwarming stories, and interesting pertinent information regarding care and training. If you would like your copy, please mail your check to Shepherds of Leybourne at the address below.
Finally, let me introduce myself, I am Mary Irene Hodges, and I will look forward to the opportunity of getting to know you personally.
p.s. To see my dogs is to be a believer. In the house they are quiet, calm and easy to be around. They speak when spoken to, and are seen and not heard -- I am so proud of them. Look at the great photographs and judge for yourself.
Please e-mail for more information
E-mail shepherds@leybourne.com

---

Stud Service


Grooming


Training


Dog Heaven Hotel - Boarding